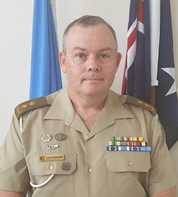 Hello. I am Lieutenant Colonel Peter Conroy, the Commanding Officer of the Australian Defence Forces Peace Operations Training Centre, and I'd like to welcome you to this e-learning portal which is proudly brought to you by both the Peace Operations Training Centre and our partner, the Peace Operations Training Institute. The Australian Defence Force Peace Operations Training Centre was established to provide training and education to the ADF, partner organizations, and our allies to ensure successful peace operations. This e-learning portal is one of the methods used to achieve this. In today's complex peace operations, military, police, and civilians are called upon not only to maintain peace and security but also to protect civilians and the vulnerable, and prevent sexual exploitation and abuse, while ensuring the involvement of women in the peace process, assisting in disarmament, demobilization, and reintegration of former combatants, and protecting and promoting human rights
Show more/less...
The Australian Defence Force is pleased to provide the funding that permits national peacekeeping centre students and staff from: Australia, Cambodia, Fiji, Indonesia, Malaysia, Micronesia, Myanmar, New Zealand, Papua New Guinea, Philippines, Samoa, Singapore, Thailand, Timor-Leste, and Vietnam to study POTI's E-Learning on Peacekeeping courses at no cost through the Australian Defence Force Peace Operations Training Centre (ADF POTC). This programme is also available to all military, police, and gendarmerie of these nations.
POTI offers 29 courses in English with available translations in French, Spanish, Arabic, and Portuguese. ELPAP students may download all course materials, study their courses offline, take each self-scoring End-of-Lesson quiz, and when they are ready, take the online End-of-Course Examination. Students who pass the exam with a minimum of 75% are awarded a Certificate of Completion for each course.
Having trouble finding where to input the programme eligibility code? Enter the code on the profile page in your student classroom after creating an account. If you have any questions or concerns, please contact POTI staff members by submitting a ticket through our help desk system.
ELPAP Publicity Media
- Click here for the ELPAP poster
- Click here for the ELPAP pamphlet