International Peace Support Training Centre (IPSTC)

The Peace Operations Training Institute is pleased to partner with the International Peace Support Training Centre (IPSTC) to provide e-learning on peacekeeping courses at no cost. POTI offers courses in English, French, Spanish, and Portuguese. Personnel from International Peace Support Training Centre may download all course materials, study their courses offline, take each self-scoring End-of-Lesson Quiz, and when they are ready, take the online End-of-Course Examination. Students who pass the examination with a minimum score of 75 % receive a Certificate of Completion for each course.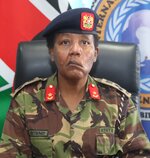 Brigadier Joyce Sitienei, Director of IPSTC
Use the following programme eligibility code when creating your student profile to request special training provided through our partnership with IPSTC: IPSTC
Having trouble finding where to input the programme eligibility code? Enter the code on the profile page in your student classroom after creating an account.
If you have any questions or concerns, please contact POTI staff members by submitting a ticket through our Help Desk system.
Our Thanks
This programme is funded by  Global Affairs Canada's Peace and Stabilization Operations Programme,  the Dutch Ministry of Foreign Affairs,  and the Foreign & Commonwealth Office of the United Kingdom.