Are You Interested in Becoming a POTI Student?
Taking the Distance Out of Distance Learning
With today's increasingly complex world, the widespread availability of computers and the internet, and a need to provide peacekeepers worldwide with training on peacekeeping that is high in quality and low in cost, there is an increasing demand for distance learning. At the Peace Operations Training Institute, we take steps to 'take the distance out of distance learning' and provide our students with a learning experience that is rich, interactive, and meaningful.
The Peace Operations Training Institute offers distance-learning courses on current topics in peace support, humanitarian relief, and security operations. Our training provides the flexibility and accessibility for students to study at their own pace. Our curriculum aims to build solid, practical knowledge of UN peacekeeping and related topics. Institute course authors are former Force Commanders, Military Advisers to DPKO, experienced peacekeepers, published authors, and scholars expert in their fields.
Just Some of the Reasons to Study Our Peacekeeper Training
With dozens of courses to choose from, students are ensured to receive a well-rounded education related to the topics of peace and humanitarian relief.
Every student is eligible to enroll in multiple free courses to study, just for being a POTI student.
There are no time restrictions, so students can study when convenient and complete the courses at their own pace.
POTI is a not-for-profit public charity, so students can enroll in our courses knowing they are getting the best value for their money.
Having served over 130,000 students, new students can sign up knowing they are joining good company.
Students are given the ability to ask the course authors questions related to the training material.
POTI has staff members fluent in English, Spanish, and French and are always helpful answering any questions you may have for us.
Earn Certificates of Completion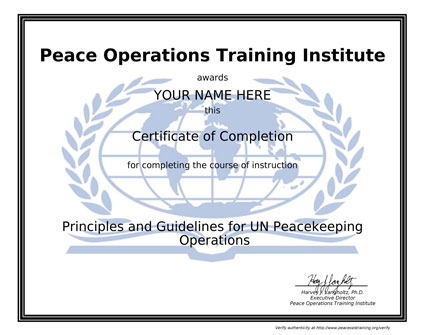 Students earn a certificate of completion for every peacekeeping training course completed. Each certificate has its own unique serial number, making it easier to authenticate an earned certificate.
We provide certificates in English, Spanish, French, and Arabic to match the language of the course you are studying.
Transcripts are also available to act as another way of officially documenting all the courses you have completed at POTI.
The E-Learning Experience
Providing our distance learning courses to students located all over the world is possible through the use of our online classroom. The classroom can be considered as a Learning Management System (LMS), also referred to as a Virtual Learning Environment (VLE) or a Course Management System (CMS).
Every person who signs up as a student with POTI is given access to an online classroom that can be considered their own.
Key Features of the Online Classroom
There are numerous features and resources contained in your online classroom. The following is a sample of what it has to offer:
Ability to train in every peacekeeping training course we offer our students.
A secure testing environment where our students can complete their course training.
Access to any free training resources we provide.
The ability to download Certificates of Completion for any course you have completed.
Student forums where students can write to each other about any number of subjects.
The best part about our online classroom is that it is free to sign up and use.
Ready to commence your e-learning on peacekeeping?
Looking for a Greater Challenge?
You can complete individual courses and receive a certificate of completion. However, students looking for a greater challenge may be interested in enrolling in our Certificate of Training in United Nations Peace Support Operations (COTIPSO) Programme. More about COTIPSO.