您好,欢迎来到和平活动培训所,我们为全世界的联合国维和人员提供在线教学。每年,全世界有超过10万维护和平的学生加入。  
2010年夏天,和平活动培训所的负责人参加了在中国河北廊坊,中国人民武装警察部队学院,维和培训部召开的大会。大会一致认为,学习和平培训所英文版的在线教学将会对中国军事以及警察部队的学员提供极大的帮助。并且,这将有利于与维和任务中所使用的语言──英语保持一致。如果学生希望,我们还可以提供法语和西班牙语的选择。
我们非常高兴欢迎来自中国的学生。请 点击这里加入维和在线教学。我们希望您学习愉快。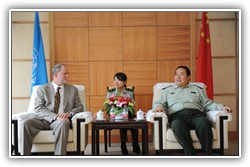 ---
Greetings. And welcome to the Peace Operations Training Institute. We offer e-learning to United Nations Peacekeepers worldwide, and each year we provide over 100,000 enrollments to peacekeeping students in all nations.
During the summer of 2010, the Director of the Peace Operations Training Institute attended meetings at the Peacekeeping Training Department, Chinese people's Armed Police Force Academy, Langfang, Hebei Province, China. It was agreed that military and police students from China would benefit from studying the English versions of the e-learning courses offered by the Peace Operations Training Institute. This is to remain consistent with the working language on most peacekeeping missions, which is English. Students also have the option of studying the courses in French or Spanish if they wish.
We are pleased to welcome our students from China. We hope to have you enrol in e-learning on peacekeeping. We wish you well in your studies.